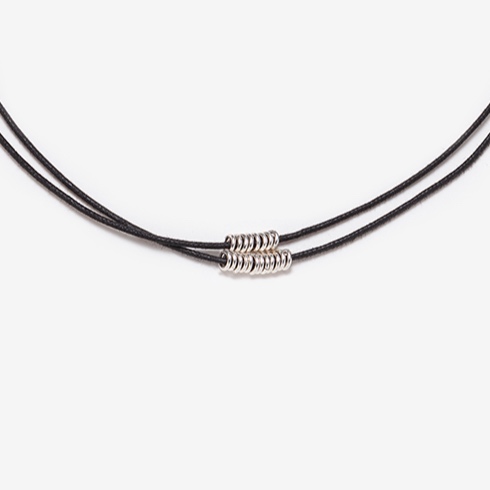 Helio Choker
This is the Helio Choker.
This necklace features 20 sterling silver loops floating around a simple black thread. The loops are made from 0.8mm round sterling silver wire. The waxed cotton cord is water resistant and durable. It is tied at the back with a handmade sterling silver button.
The necklace is meant to be worn close to the neck and length is adjustable from 13.5'' to 14.5''.
We welcome custom orders. Please get in touch with us to customize this piece.
/
Voici le Collier 'Choker' Helio.
Ce collier présente 5 petits anneaux en argent sterling conçus pour bouger librement autour d'un cordon noir simple. Les petits anneaux sont faits avec une tige en argent sterling au profil rond de 0.8mm de diamètre. La corde de coton ciré est résistante à l'eau et durable. Elle est retenue à l'arrière du collier par un bouton en argent sterling fait à la main.
Le collier est fait pour être porté près du cou et sa longueur est ajustable entre 13.5'' et 14.5''
N'hésitez pas à nous contacter pour modifier cette pièce sur mesure.